SRV is proud to announce our new Kids Camp at the club.  What could be better than summer fun and playtime with friends on the beautiful grounds, pools, and facilities of The SRV Club.  Our program offers weekly segments for children entering kindergarten through 5th grade.  Designed with fun as our top priority the program offers a host of activities specially tailored to the ages and interests of our campers. Our goal is to create a stimulating environment that taps into each child's creativity, purpose and drive.  While fun is paramount so is insuring a safe, secure and supportive environment for all our participants.  Our program is led by a highly experienced educator who is uniquely position to deliver a fun and nurturing summer experience for your child.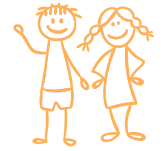 Arts & crafts, sand play, water play, nature, yoga, legos, music & dance, soccer, and softball, story time, science, basketball, volleyball, pool time, tennis,  treasure hunt and much more!
4 weekly sessions starting July 10th. Each camp session runs Monday through Thursday with Friday as a rain date.
Vested Members $250
---
Non-Vested Members $300
---
Non-Members $400

All kids are in camp through lunch and are welcome to bring food from home or choose from delicious options from our poolside café. Camp provided lunch is available at an additional cost of $40 per week.