GENERAL MANAGER – Bill Pilla
Bill is the Coordinator of Physical Education, Health & Athletics for the East Ramapo Central School District. He holds administration certificates and Master's Degrees in Educational Administration and Special Education. Bill is also has certifications in First Aid/CPR/AED and DASA and Concussion Management. He has coached sports for over 20 years from the youth to varsity level in baseball, softball, football, basketball, and golf. Bill is also a member of the National Interscholastic Association of Athletic Administrators. He resides with his wife and 3 boys in Ridgewood, NJ.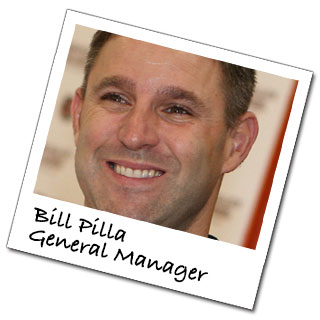 DIRECTOR OF TENNIS – Sharon Mattiace
SRV Summer Tennis Camp and Tennis Center are run by SRV's tennis professional Sharon Mattiace. Sharon was born in South Africa and started playing tennis at the age of seven. She quickly found a passion for the game and began playing in tournaments.
Her academy was The Hudson Sigma Squad run by Jean Gough, the daughter of England's soccer legend Sir Stanley Matthews. While training with the likes of Wayne Ferreira, Sharon learned there was more to tennis than keeping fit and hitting a ball. In addition, her skills at the academy continued to advance as she received instruction from many greats; Rod Laver, Ken Rosewall, Billy Jean King, Chris Evert and Ivan Lendl — all have had an influence on creating the player she is today. Upon receiving her apprentice coaching license, Sharon never looked back.
Coach Sharon was employed at The Health and Racquet Club under Head Pro Dale Bloom and played "A" leagues for the club and holds 22 championship titles for singles, doubles and mixed doubles.
Committed to tennis for life Sharon is beginning her fourth decade of coaching and sharing her inspirational techniques to all players between the ages of 3 and 85. She quickly observes your energy and learns your everyday motor skills and incorporates them into your game and is known to teach "ZEN-NIS" as much as tennis. Additionally Coach Sharon has been the director of the Upper Saddle River Recreational Tennis for five years.
AQUATICS DIRECTOR – Arman Fardanesh
Arman became a member of SRV in the summer of 1996 where he learned how to swim and compete on the swim team at age 6.  He then competed every year until the age of 18, while working as a lifeguard and certified swim instructor.
Arman is the Assistant Swim Coach for the Northern Valley Old Tappan High School Swim Team and is an American Red Cross Water Safety Instructor and Lifeguard Instructor.  He is a nationally registered Emergency Medical Technician (EMT) and American Heart Association CPR/AED/First Aid instructor and Training Center faculty member.  Arman is also a volunteer Firefighter/EMT with the Upper Saddle River Fire Department and Upper Saddle River Volunteer Ambulance Corps.
Arman attended the University of Delaware where he obtained a degree in Biological Sciences and Medical Humanities now working in Risk Management for a top pharmaceutical company.  He resides in Upper Saddle River with his family.
Assistant Manager – Justin Parsils
Justin is very excited to be starting his third year as assistant manager at SRV. Justin holds a Bachelor of arts Degree in Social Sciences from Keene State College as well as Master's Degree from William Paterson University. He recently completed his 17th year at Waldwick Middle School where he teaches 8th grade early world history. He resides in Oakland with his lovely wife Christine and their adorable, yet crazy daughter, Athena.
Assistant Manager – Winslow Dorsainvil
Winslow Dorsainvil begins his second season at SRV. He is a graduate student at St. Thomas Aquinas College in Sparkill, NY. He will be entering his second year to get his Masters of Business Administration this upcoming Fall. Winslow is a four year member of the St. Thomas Aquinas Track & Field team and is a nationally ranked sprinter. Winslow is single and resides in Suffern, NY.